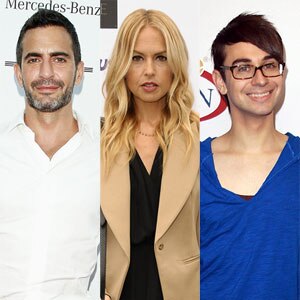 Jason LaVeris/FilmMagic; Andreas Rentz/Getty Images; Robin Marchant/FilmMagic

OMG, Fashion Week Spring 2012 starts in New York tomorrow!
Models, celebrities and of course the queen bee—Vogue editrix Anna Wintour—are all primed to take over the Big Apple during the eight-day event held under the tents at Lincoln Center.
And we've got the scoop on the hottest shows, designers, star sightings and more...
1. Which Designers Have the Biggest Buzz? There's Donna Karan, Diane Von Furstenberg, Zac Posen, Cynthia Rowley and Michael Kors. These popular shows draw big names to fill their front rows. But the buzz this week is with two TV stars and one soccer wife. Crowd favorite Christian Siriano of Project Runway fame has a highly anticipated show. He's adorable and high energy, his clothes are intricate and beautiful, and he fills every seat in the house. Rachel Zoe will debut her collection on Sept.12 and all eyeballs will most def be on what she's bringing. Victoria Beckham will be in New York, but not at the Lincoln Center tents. Posh will
show her collection
offsite on Sept. 11 at the New York Public Library. But the biggest buzz goes to designer darling Marc Jacobs, whose runway show is always the hardest to get into year after year.
2. Fashion Week by the Numbers:
The Spring 2012 runway shows are broken up over eight days, with 264 shows taking place. According to Forbes, designers usually spend big money for their productions, which feature specially built sets, music and models. Picture a really pretty but really short theater act. One that costs $500,000. And that's for a 10-minute show where you're in and out in a flash. As for the models, a catwalker in high demand will walk 15 to 20 shows per day, while everyone else averages about 10 shows over the course of the week. They usually walk in a number of different looks during each show and have about 15 seconds backstage to change outfits. Yikes!
PICS: Check out the Fall 2011 Runway
3. The Parties! The week kicks off with Fashion's Night Out, when over 1,000 stores turn into after-hour party places. Fashionistas roam the streets hopping from store to store looking for deals. Die-hards actually map out an FNO route and buy to their heart's content. Alice + Olivia's nighttime show always features a rockin' band, and on the ultra-glam side of things, Vanity Fair will host a Fashion in Film cocktail party. Q Model Management will have a model-packed party and Barney's will throw a bash the night of Sept. 10. Expect famous faces at all of the above.
4. Which Stars Will Sit Front Row? Fashion Week will draw some
familiar faces
—we'll probably spot Kanye West, Jessica Simpson, Mary-Kate and Ashley Olsen at more than one show. Some more VIP names being tossed about for runway-adjacent seats are Joss Stone, Kelly Rowland, Hayden Panettiere, Michelle Trachtenberg, The Real Housewives of New York, Kim Kardashian, mom Kris Jenner, Courtney Love and Fergie.
5. It Girl Buzz: Will Blake Lively be this season's No. 1 front-row fashionista? She's graced the cover of Vogue, she's
dating
Leonardo DiCaprio, and she was fawned over last season by Karl Lagerfeld and the fashion crowd. But fashion is fickle, so will Blake be back for more this year or will her slot be filled by someone else? We're thinking Rosie Huntington-Whiteley would be
just perfect
.
(Originally
published Sept. 7, 2011, at 8:28 p.m. PT)
PICS: Fashion Week's It Girl Blake's many looks
Read more:
http://www.eonline.com/news/five_things_you_need_know_about_fashion/262199#ixzz1XN4ojHpE