It didn't take much to convince
Tori Spelling
that the grass was not necessarily greener on the other side of toddlerhood.
"I'm scared of screwing up my kids. I thought that once we were out of the baby stage, parenting would be a breeze," the actress, 38,
tells Parenting's October issue
, which features her family dressed for Halloween.
"You just feel at every turn like, whoa, am I making the right decisions, setting the right boundaries?"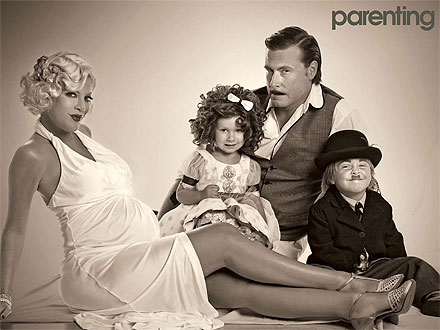 John Russo for Parenting
One of the greatest challenges Spelling finds herself facing is the constant guilt trip of managing motherhood with work commitments.
"There are days when I struggle with wanting to be a full-time, stay-at-home mom, and feeling guilty about that because I work," she admits. "[One mom at school recently said,] 'Oh, you never go to anything.' That hit me really hard."
Expecting her
third child
with Dean McDermott next month, Spelling — already mom to Liam Aaron, 4, and Stella Doreen, 3 — has also learned to juggle the role of stepmother to her husband's son Jack, 12.
"I have a good relationship with
my stepson
, Jack," she says. "The most important thing I learned was to make sure Jack knew I was never going to try to take his mom's place or be his mother."
Although her children are still young, Spelling finds herself thinking of their future — and hoping they avoid the same mistakes their mother, who once "held everything in emotionally," made in her earlier years.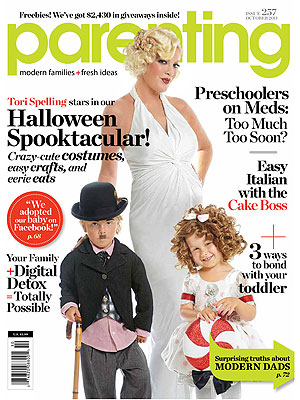 John Russo for Parenting
"I wasn't truly comfortable with myself until I was about 30. I spent so much time and energy wondering if I wasn't worthy, and trying to find people to validate me, instead of validating myself," she shares.
"When I think of what my greatest wish for my kids is, it's for them to know who they are, and be proud and confident, before 30."
Now, with a strong sense of self, the reality star finds herself looking to only one person when it comes to parenting advice: herself.
"I don't have many mommy role models … and I'm glad," Spelling reveals.
"I used to be obsessed with what other moms would do, but listening to your maternal instincts is always the right decision."
Click here for video from the Parenting photo shoot
.