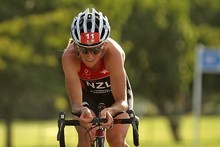 Nicky Samuels has shown a clean pair of heels to blow away the opposition and earn a commanding win in the Escape from Alcatraz triathlon in San Francisco.
The New Zealander was in top form, posting a time of two hours, 13 minutes, 13 seconds yesterday on a tough course encompassing a 2.4km swim, 30km bike and 13km run.
Daylight was second followed by three-time race winner, Briton Leanda Cave, who trailed Samuels home by a margin of 4min 21sec.
Samuels' compatriot Bevan Docherty was in the thick of the action as well in the men's race before finishing second behind American Andy Potts.
Samuels did not have the best of swims, emerging from the water 1min 35sec down on American Sara McLarty, but just 1sec behind Cave and 6sec ahead of 2006 Escape champion Becky Lavelle, another American.
Then then turned on the screws on a hilly, twisty bike leg, posting a race-best 51min 25sec for the section that rocketed her past McLarty and left her 1min up on Lavelle and 2min ahead of Cave.
Samuels maintained her dominance on the run to cross the line unchallenged.
Potts led the men's race from the water to the finish line, although Olympic silver medallist Docherty cut 1min 30sec off his lead during the run although he ended up 34sec behind the American at the end.
Men: Andy Potts (US) 1:59.45 1, BEVAN DOCHERTY (NZ) 2:00.19 2, Matt Chrabot (US) 2:00.25 3.
Women: NICKY SAMUELS (NZ) 2:13.13 1, Leanda Cave (Britain) 2:17.34 2, Becky Lavelle (US) 2:19.21 3.
Be part of the news. Send pics, video and tips to nzherald.