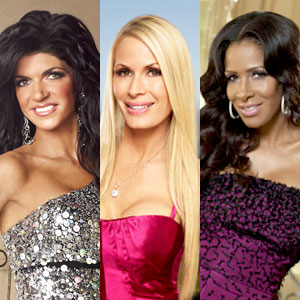 BRAVO
While Bravo might be
ready to pop out another installment
of the now-controversial Real Housewives franchise, the bigwigs over at the network might want to consider cutting the broads some bigger paychecks. Otherwise, the show might as well change its name to Real Homeless Housewives.
Though they may want you to think they're living a lifestyle of the rich and semi-famous—much like folks were fooled by the Armstrongs'
false appearance of wealth
—plenty of these boob-tube ladies have been feeling the burn of the crappy economy. Who's their biggest enemy (well, besides Danielle Staub)?
RELATED: Heartbreaking Russell Armstrong 911 Call Released: "My Friend Just Hanged Himself, Do You Understand?"
The real estate market!
The Housewives haven't earned their reality-TV notoriety for recessionista ways, so it might not be surprising that sometimes they make expenditures they can't quite cover.
Very in-the-know Zillow blog
spilled on some of the real woes of the Real Housewives, and we're taking a look the five worst of the worst:
5. Sheree Whitfield: Saved By Divorce! The ex Atlanta Housewife doesn't exactly have the best track record when it comes to paying her bills: like allegedly owing cash to
her private detective
or on
her swanky car
. But it wasn't her fault that her former pad went into foreclosure: Her (now) ex-hubby lost it to the bank, which cut the price a million dollars to unload it.
4. Peggy Tanous: Conspiracy Theorist! If there's one thing we know about O.C. chick Peggy it's that she
isn't afraid of a catfight
. And when she's not feuding with her fellow castmates, she apparently isn't afraid to take on...the bank?! When the broad received a foreclosure notice on her home, she accused her lender of "
conspiring to take the house
."
3. Lynne Curtin: Always on Notice! It's no secret that former O.C. Housewife Lynne hasn't exactly had the best of luck in the past. Maybe worst of all? Bravo gave her the
boot from the hit series
. But she's also had some housing trouble.
Like getting evicted from
her Laguna Beach rental in 2009. A year later? The chick was evicted from another SoCal home. Yikes!
2. Alexis Bellino: Cut-Back Queen! Here's a sitch that O.C. broad Alexis
doesn't want aired on TV
: She was in debt. Like $84,000 in debt! But when she and her hubby, Jim, tried to unload their home for nearly $8 million, no one was biting. Not until they lowered the price to $3 mill. Hardly a figure to scoff at but a brutal $5,000,000 loss!
1. Teresa Giudice: Debutant in Debt! While Teresa may be famous for flipping tables, we're surprised she owns any furniture anymore. The New Jersey spender and her hubby, Juicy Joe, were nearly $11 million in debt when they lost their overly expensive home and filed for bankruptcy. They are now undergoing credit counseling. Maybe it's time she doubles up her TV duties and moves her brood into the Jersey Shore house?
PHOTOS: Before they were Housewives!
Read more:
http://www.eonline.com/news/the_awful_truth/top_five_real_housewives_real_estate/261202#ixzz1WeeKP1R0