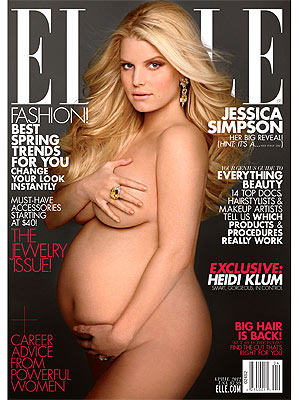 By: Denise Young
We love Jessica here at SBD! And when we found out that she was getting married and have a baby we was happy for her! So when me and the staff saw this pic in Elle I had to write about it. Our
Jessica Simpson
has made billions from her
eponymous fashion line
, and she tells ELLE that she's hoping her little one —
a girl
! — will be similarly style-conscious.
"I swear, I will croak if she asks me for a pair of Nikes instead of Christian Louboutins!" the
Fashion Star mentor
, 31, says of the baby she's expecting this spring with
fiancé Eric Johnson
.
"Eric is so athletic — we're gonna have this athletic girl and I won't even be able to take her shopping, 'cause all she's gonna want is sports bras and Nikes!"
But while
the baby's personality
has yet to be seen, one point is already decided: her "nontraditional" name.
"We're sure," Simpson explains in
the magazine
's April issue, for which she
posed nude
.
"It's nothing shocking and nothing you'll have to add to the dictionary. Still, when people hear it, they'll know … why." Pick up the issure yourself and read it!