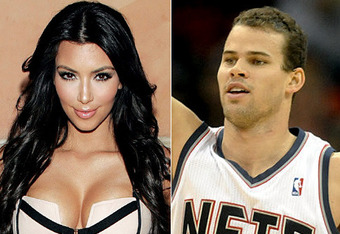 Kim Kardashian confirms engagement with NBA Player Kris Humphries
After a six month relationship, reality star Kim Kardashian confirms she is engaged to New Jersey Nets forward Kris Humphries. According an exclusive report by PEOPLE magazine, Humphries proposed to Kardashian at her Beverly Hill mansion on May 18.
The big stunner here is that Humphries proposed with a 20.5 carat diamond ring by Lorraine Schwartz valued at a whopping $2 million. Humphries may have a seven-figure NBA salary but ponying up that kind of cash just doesn't make that much sense.
But wait, there has to be more to it than that.
The 6-foot-9 Humphries has made more than $16 million in his seven-year career and made $3.2 million in his breakout season in 2010-11. But Kim is believed to be reality TV's top moneymaker, having netted $6 million in 2010. She recently secured $40 million in financing for her shoe Web site. The entire Kardashian clan raked in $65 million combined last year, according to a recent re port. Humphries can file for free agency on July 1, and he'll need a big raise to catch up with his fiancée. It's believed the couple will make LA their main home, but no date has yet been set for a wedding.
In other words, he's probably using that ring is a small investment because he'll now be joining a money-making family known as the Kardashians.
If you're not familiar with the luck of the Kardashian, it's time to get schooled. They bring good luck, championships and of course lots of money.
Fans would be foolish not to think that Humphries won't command a decent salary after posting averages of over 10 points and 10 rebounds per game this season. Now that he's get Kim locked up on his side, he'll surely get even more attention from teams looking to build up some interest and draw fans to basketball games.
Heck, don't even be surprised if he moves closer to the West Coast as a free agent where he'll probably get an offer for something close to the mid-level exception.
And he'll probably have Kim to thank for that.