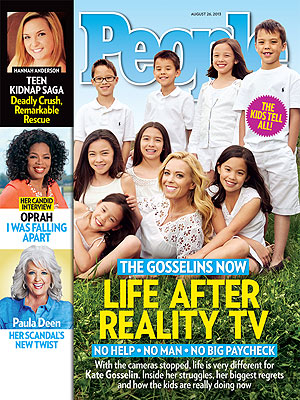 It's been more than two years since
Kate Gosselin
and her
brood of eight
– twins Mady and Cara, 12, and sextuplets Alexis, Collin, Hannah, Joel, Leah and Aaden, 9 – appeared on their own TV series, and the single mom is decidedly humble about her circumstances.

"I'm living very carefully these days," Gosselin tells PEOPLE in its latest issue, on newsstands Friday.

Now that
her TLC reality show is a thing of the past
, the matriarch is making ends meet "piecing and patching together" an income from a
variety of projects
, she says.

For the former nurse, whose
marriage to Jon Gosselin imploded
on Jon & Kate Plus 8 in 2009 after a
cheating scandal
hit the tabloids, "To not have a reliable income is scary," she concedes.


But Gosselin is quick to absorb some of the blame herself.

"I made so many mistakes, of course," she says, admitting that her own diva-like behavior may have led to her current unemployed state.

Looking back on the heyday of her fame, and the
scandal that surrounded her
, "It feels like a whole other lifetime ago," she says. "And sometimes I don't even remember much of it. Both when the babies were first born and during the divorce, I was on survival mode. I feel like I've lived two lifetimes already. I'm not the same person I was ... I don't even recognize her."