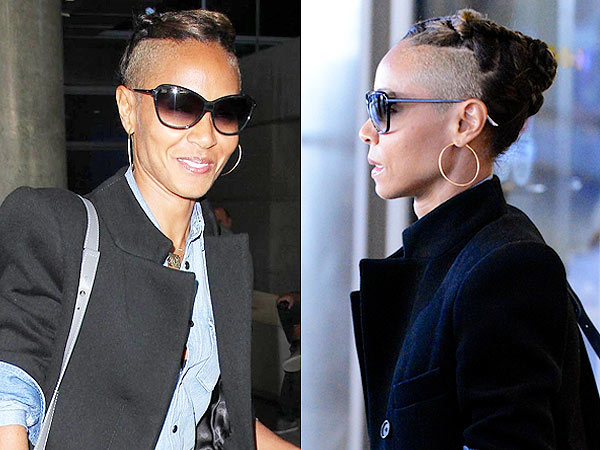 Jada Pinkett Smith is not one to sport the same long, wavy layers for years, unlike some Hollywood stars we could mention. Which is why, when she showed off
an angular, asymmetrical cut
earlier this year, we admired it while knowing it was not long for this world.

And this week, Pinkett Smith proved us right, hopping off a plane at LAX (no dream or cardigan, à la Miley, but she did wear
a plaid shirt wrapped around her waist
) with her new do in full view. She had returned to the
shaved-sides look
she'd sported in 2012, but this time she'd gone all the way up to the crown of her head and left the mid-section long, sweeping it back and braiding it into a faux-hawk/bun hybrid.
RELATED PHOTOS: Love Her Hair! Star hairstyles we can't stop buzzing about.
Her new hairstyle definitely complemented the '90s vibe (plaid, denim, buckled boots) Pinkett Smith was rocking in the airport, but we can't tell if it's more low-maintenance grunge or high-maintenance complicated cut. And though we know she
doesn't give her own hair a ton of thought
, we still think her latest look is worth discussing. Do you like the new vibe? How would you style it?