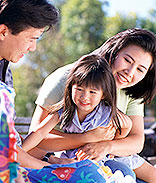 Information is power, indeed! So where are all of the marriage-minded singles? Certain states are tops in regard to their amenities, economic outlook, availability of singles and ability to provide an overall culture that's family friendly. By marrying information gleaned from Money magazine's lists of the top places for families to live and their picks for the best places for singles (along with recent U.S. Census data), we have discovered the 10 best states for those who are looking to get linked up in love and start building a family together. Across the board, these states offer access to educated, employed and adventurous singles in the kind of enticing settings that make for great permanent family homes. If this sounds like what you've been looking for, then it may be time to make your move to one of these great "settle-down states."

Massachusetts
Many of the small residential enclaves outside of Boston offer up a laid-back dating atmosphere. Massachusetts boasts an educated and employed singles scene along with its many great suburbs, top-ranked public schools, parks and stable employment numbers. Check out Newton with its great access to Boston, ample employment opportunities and beautiful neighborhoods. Looking for a brainiac to date? Then Brookline — with one of the highest concentrations of master's degrees per capita in the country — may be the perfect place for you to check out.
Browse Local Singles at Match.com on Yahoo!
California
Even with all of its newsworthy financial woes, California still remains one of the top states for family-oriented singles. In addition to the state's great singles community, its many amenities, diverse population and employment opportunities, and picturesque neighborhoods make it an attractive place for those looking to settle down and stay awhile. Irvine boasts a highly educated population of singles, and Newport Beach is constantly ranked as a great family locale thanks to its sand, surf, sun, boutiques and great mix of available housing styles.

North Carolina
North Carolina's preserved the laid-back charm of southern living while keeping an eye toward the newest technology trends and entertainment options, making it a state that offers the best of both worlds. Towns like Cary and Chapel Hill rank high on the list for their populations' high percentage of singles, but they also offer all the sports, entertainment and food options you could possibly want — along with the sense of community that modern families desire. North Carolina practically screams, "Come and start your family here!"

Washington, D.C./Baltimore region
If you're single and searching, talk about getting a bang for your buck! You cannot beat the D.C./Baltimore region for its diversity, accessibility, great neighborhoods and job opportunities. Dating in these cities and their suburbs provide thousands of chances for you to get it right it in love. This region offers new couples myriad options for living, working and playing together. There is definitely something for everyone here: Towson, MD boasts one of highest number of single professors in the country, while Arlington, VA and Washington, D.C. are home to the politicos. And the area's diversity abounds, too — especially in Columbia, MD and Ellicott City, MD. If you love living in a community where the singles are not just intelligent but also connected, then this is the place for you.

Illinois
Settling down is easy in Illinois. Chicago's suburbs offer up beautiful homes, lakefront property, and an arts and culture scene that's sure to make family life thrive. With 33 percent of its population professing to be single, there's a definite climate here for people to find The One. Local bars and entertainment venues offer various fun ways for singles to connect, and once the connection's established between you two, areas like Evanston and Oak Park provide the perfect starting points for new families looking for safety, attractive and affordable housing, lush lake and park surroundings, and lots of outlets for exploring the arts.

New Jersey
There is so much more to the singles scene in New Jersey than the people visiting the Jersey Shore! How about the area's thriving theater scene, proximity to New York and nightlife options, for starters? And while many Fortune 500 companies have their corporate headquarters located in New Jersey, it's also a great place for those looking to take off the corporate mask and really settle into family time when they're ready. It's a great home base for those singles that like to work and party in New York City, but who are also looking for something a little calmer once they get home. Affordable housing, great schools and growing employment opportunities make the state an attractive option for families and those looking to get start one of their own.

New York
I know this one surprised a lot of you; however, this is definitely not about New York City — it's more about the surrounding suburbs instead. It turns out that you can actually increase your chances of finding The One by moving outside of the city itself and turning into a commuter. White Plains, NY boasts a 31percent singles rate amongst its population, and its own bar and entertainment scene allows singles to mix and mingle closer to home. There are housing options galore, great schools, and its proximity to many diverse career opportunities make for a great starting location for anyone who's looking to settle down.

Michigan
States that boast powerhouse colleges and universities tend to be great places for both families and singles, and Michigan falls right into this category. With its highly educated population, start-up mentality and strong cultural amenities, there is so much for families just starting out to take advantage of in this state! Ann Arbor in particular is a great community to consider, with its many bars, music and entertainment venues providing ample opportunities for you to meet The One. The community itself also has a lot to offer new families with its devotion to college sports, easy access to plentiful natural resources and an academic community unlike any other.

Colorado
If you love cold weather and outdoor activities, then you may want to settle down in Colorado. The state's single population is one of the largest around, coming in at about 48 percent; and because of this little-known fact, it's a great place to play the dating game. Once you have met your match, there's plenty Colorado has to offer that keeps families within the state, such as its beautiful surroundings, a growing technology community, outdoor activities galore and thriving suburbs.

Connecticut
Here's another winning state on the east coast that offers a smart population, large corporations, great schools, wealthy residents, picturesque neighborhoods and a short commute to New York City. Being single in Connecticut offers up lots of opportunities to get out and meet new people while doing interesting things. Entertainment and cultural options abound, and with a 31 percent singles rate, you're bound to come across a great match!

LaDawn Black is a relationship expert, radio personality and the author of Tease: Steamy Short Stories. Learn more at www.ladawnblack.com.