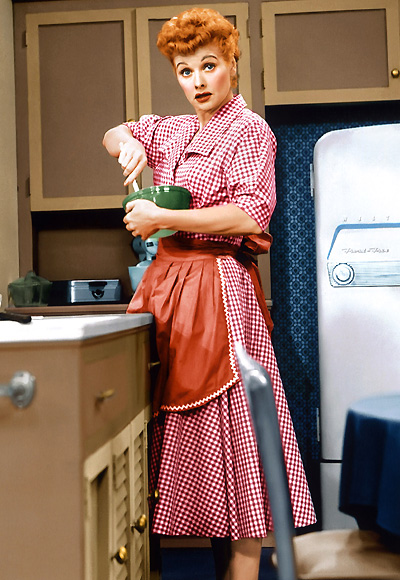 The 12 Most Stylish TV Housewives
The word itself—housewife—still seems almost shockingly retro. But it's having something of a renaissance, thanks in no small part to Bravo's now ubiquitous "Real Housewives" series. So the time seems right to salute the small screen's most fashionable female homemakers—read on to see who made our top 12!

Lucy Ricardo, I Love Lucy
SIGNATURE STYLE:
Lucille Ball played down her natural glamour, opting instead for a kooky, lovable dizziness and a wardrobe filled with patterned shirtdresses.

WHY WE LOVE HER:
Ironically, Lucille Ball created her breakthrough 1951-1957 sitcom in part so that she could move from B-movie queen to mom: "I wanted to get out of the pictures and stay home so that I could have children," she once explained. On-screen, opposite real-life husband Desi Arnaz (Ricky Ricardo), she inverted the equation, playing a marginally talented wannabe star, in a performance as colorful as her tangerine-tinted hair.
Go to
http://www.instyle.com/instyle/package/general/photos/0,,20396039_20476958,00.html
for the other 11.