By Amelia McDonell-Parry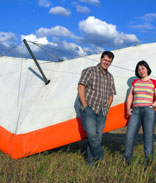 Leisurely noshing and necking in a darkened theater is fun, but it puts you at risk for dinner-and-a-movie burnout. But that's not the only reason to try something new — novelty can also improve your love life. "Adventurous dates add excitement, which arouses the central nervous system," says David B. Givens, Ph.D., author of Love Signals and director of the Center for Nonverbal Studies. "If you get an adrenaline rush from, say, skydiving, you're both charged up, and that feeling spreads into the relationship itself. You associate that rush of adrenaline with the person you're with." Here are five suggestions for daring dates that'll kick the romance quotient up a notch.

Daring Date #1: Defy gravity
There's no bigger rush than rising above your daily life — literally. "I took my girlfriend Jessica for a glider plane flight," Chicago native Michael Kelly says. "Our pilot did all sorts of crazy tricks. Even though she was digging her nails into my leg, Jessica's shrieks were definitely happy ones." Conquering a fear together or just experiencing something completely unusual creates an instant bond. Find a high-flying adventure near you by logging onto www.aopa.org/learntofly/school/index.cfm.
Browse Local Singles at Match.com on Yahoo!

Daring Date #2: Spice things up in the kitchen
Sure, the two of you could make pottery or improve your French, but why not be a bit edgy? Leila Singer and her boyfriend Casey took a cooking course through their local culinary school. "Our 'Hot & Spicy' cooking class was actually really sexy," confesses the Miami resident. "We made everything from stuffed habañero peppers to an Indian curry. Testing our limits with our sense of taste was a really sensual experience." Plus, working together in a kitchen shows you how your sweetie deals with teamwork, new ideas and inevitable mistakes. Who said oysters and chocolate were the only food for lovers? Find a class near you at www.culinaryschools.com.

Daring Date #3: Get inked
If you've got an adventurous spirit, you've probably thought about getting your body permanently marked (over a third of people in their late twenties have actually done it). For an unforgettable date, hit the parlor with a potential partner. "I'd talked about getting a tattoo, so the guy I was dating surprised me with a visit to the best tattoo artist he knew," says Miranda Hall from Brooklyn, NY. "While the lotus flower was being etched on my skin, he held my hand. It was really intimate having him there for support." Just limit your date to being part of the experience, not the tattoo itself: an ex's name doesn't even look good on gorgeous specimens like Dave Navarro and Johnny Depp!

Daring Date #4: Play a part together
Have you always fantasized about being a spy? A Swedish supermodel? Indulge your daydreams by acting out a role in public that you've never had the courage to slip into solo. On an early date with her now-boyfriend, Danielle Trelling from San Francisco put on a faux French identity. "There was a long line and a strict doorman at a happening club," she explains. "Josh pulled out a believable French accent and said he was a famous actor, and the doorman fell for it. We stayed and danced for hours and kept up our roles as Brigitte and Bertrand all night long." Not ready to take this kind of act to the streets? Check out local acting schools for an improvisation class — it'll introduce you to hidden sides of each other's personalities!

Daring Date #5: Take trapeze lessons
Ever since the burlesque revival, the once-exotic high-flying circus act has become a fun option for everyone. "Once during a first date, this guy and I took a trapeze class at a recreation center," says Claire Branson from Los Angeles, CA. "It was such a childhood dream come true! Plus, he scored major points for thinking of such a fun date to begin with." Bonus: stepping (and swinging) outside of your comfort zone lets you be vulnerable and build trust with a new person. If all goes well, soon you'll be walking the tightrope of love! To find a class in your town, check out www.dmoz.org/Arts/Performing_Arts/Circus/Schools.

Amelia McDonell-Parry has written for Rolling Stone, Nylon and Maxim.