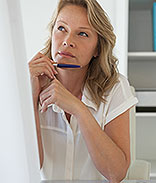 By Dave Singleton
When it comes to dating, we all have our romantic checklists.

For the most part, I think men and women agree on the key attributes we consider important in our romantic partners. Don't we all want someone who's decent, attractive, confident, loyal, has a great sense of humor, shares our values, operates with integrity, a good communicator and emotionally healthy? Oh yes, and it doesn't hurt if Mr. or Ms. Maybe is independently wealthy and has rock-star charisma, too.

But what if you just had to pick one attribute as the most critical for your mate to have? That's where the sexes part company and prioritize some traits over others — or, in some cases, define those traits differently. For example, men and women might have separate definitions for an adjective like "passionate." Everyone wants a passionate partner, but if you believe some stereotypes and outdated research, men more often associate that word with pure physical, sexual voracity, while women think of a deeply felt, lusty emotion that's directed only at them.

Recently, I spoke with a variety of women to get them to tell me the one thing they absolutely, positively had to have in a guy they were seriously dating. With a little thought — and some prodding — most of the women I spoke with were clear about their top demands. Which one tops your list?
Browse Local Singles At Match.com

"I want to be wooed; I need the romance"
Virginian Mary, 33, says: "I've been so disappointed when, after a few months, a guy loses all his romantic impulses and just settles in. I can be attracted to many types of guys; my boyfriends have been tall, short, funny, serious, really financially successful, and [one was] even a struggling artist. But the one thing I now know that I need is ongoing romance. Don't send me flowers in the first two months and then stop after we're comfortable with each other. And please don't think that ordering Chinese food and watching [something on] TiVo five nights a week is going to work for me. I want to be wooed; I need the romance. I want to make out in the car like we did on our first date. I want to meet you somewhere new as if we are having a secret rendezvous, not going to the same place on the same day of the week."

Clearly, the takeaway for guys here is: don't settle into a boring routine. Keep finding ways to spice things up and treat your girlfriend like your date, even if — and after — she becomes your wife.

"I need a man who is generous in every way"
North Carolinian Sarah, 35, explains: "I need a generous guy. My next relationship has got to be with a guy who is generous…or maybe 'not cheap' is a better way to put it. I think women are misunderstood about this concept of generosity; it's how you define it. I think a money-conscious guy is great. That implies stability to me. And I don't need him to pay for everything, although I like it when a guy pays for the first couple of dates. I just don't want a stingy, bean-counting man who knows the cost of everything, the value of nothing, and is a total cheapskate. I'm willing to be generous in return."

Sarah raises a good point about how we define key traits. Being generous doesn't necessarily mean loading you with jewels like Richard Burton did with Elizabeth Taylor, though wouldn't that be swell? It's about less about money and more about acting in a giving, graceful way with your partner.

"As I get older, I want someone who genuinely cares about me"
"I know this might seem obvious," says Virginian Charlene, 42. "But after being in relationships for a couple of decades, I just can't imagine being with a guy who doesn't genuinely care about me, and about us. I have dated lots of types of men — a swaggering cowboy, an uber-confident executive, and a smooth-talking lawyer. Each had his good points, but the truth is that authentic caring is rarer than you think. Does he always put himself first? Is the relationship more like a transaction, where we look and act a certain way to get our romantic needs met? I've been in those relationships and they feel very conditional to me. I want to wake up next to my guy knowing that we both want the best for the other one no matter what — and that we value what's important to the other one, without expecting something in return."

Maybe genuinely caring about your partner (and vice versa) seems like an obvious thing to demand in any relationship, but it doesn't often pop up on the standard "must-have" lists, at least not ahead of the usual suspects such as confidence, passion, looks and humor. But for those who've been in a relationship without feeling genuinely cared for by their partner, it shoots to the top of the wish-list for their next romance.

"I need to feel true chemistry with him"
Marylander Marisol, 33, stresses: "It's not like the other important characteristics don't matter. They do. But I can't think of anything else for the top of the list. I need to feel the chemistry. With a boyfriend, I need that elusive... something." Maybe it's what famed fictional icon Carrie Bradshaw referred to as "zsa zsa zsu" — the unexplainable chemical reaction that happens when you just can't get enough of your hot, new guy. Marisol's choice brings up an interesting point: Do the rules of attraction play out in your subconscious? The elusive feeling of "zsa zsa zsu" is probably not something women can pinpoint ahead of time, but maybe that's when the senses take over.

According to a 2002 study by J. Philippe Rushton and Trudy Ann Bons published in the journal, Psychological Science, women prefer the scent of men with genes that are somewhat similar to their own over the scent of nearly genetically identical or totally dissimilar men. Ah, pheromones! Those sneaky chemical signals produced by the body to communicate one's reproductive qualities definitely can cast a spell. It's important to remember that non-visual cues might be driving your decision when it comes to defining the one trait you can't live without in a partner.

"I want a guy who's got a big, soulful heart"
Of course, there were a few women that had a hard time choosing just one trait — and some even had quite creative reasons as to why they chose the way they did. "I have three," says Washingtonian Kristen, 27. "I just watched The Wizard of Oz with my nephew and it occurred to me that the guy I want next has the three things Dorothy found on the yellow brick road. I want a guy who has courage, heart and a brain!" Good luck, Kristen — even Dorothy couldn't find one guy in all of Oz who fit that bill. With a little prodding, Kristen finally narrowed it down: "If I have to pick just one, I want a guy who's got a big, soulful heart and is kind." And when push comes to shove, if you really think about what's most important when it comes to guaranteeing your happiness, it makes sense that a man's heart would claim the top spot.